| | |
| --- | --- |
| | 08-05-00 Installing Stillen 3" Test Pipes |
After doing all of the above, I had to race from Richardson, to my house in Valley Ranch to grab the test pipes, and then all the way down to Arlington and Alamo Motorsports. I had a 16:00 appointment with them, but flew in @ 16:36 - just less than 1/2 hour before they closed. Doh! Didn't bring my camera during the install, but here's an underground picture.
Closeup of a metal tag stating "for offroad use only" and the AIV valve. In 1994, simply plug up the valve with a supplied set of metallic plugs. I understand that this is NOT the case with 1990 - 1993 models; possible ECU recalibration.
I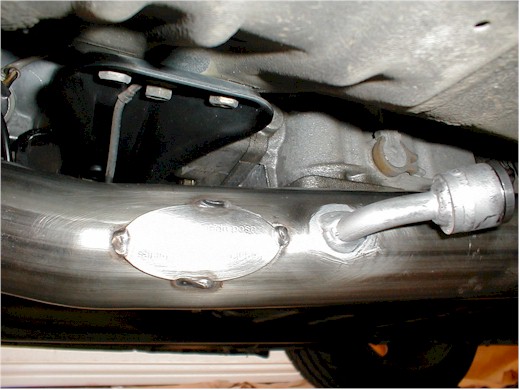 The exhaust note was a bit lower, and makes a more performance "thump-thump-thump-thump" noise than with the cat-back alone. A little bit louder too.